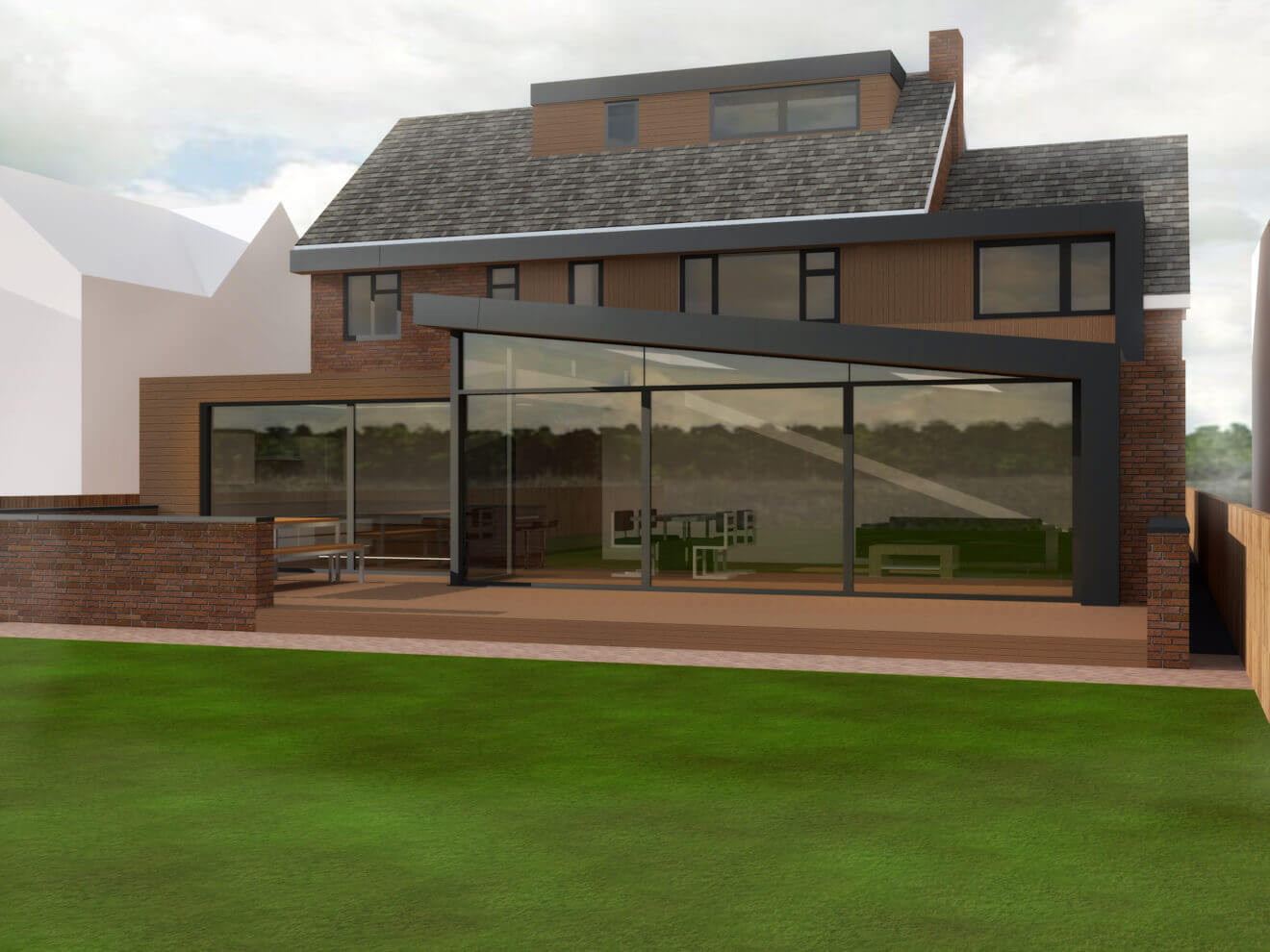 Wold View
Residential
Molescroft, East Yorkshire
Work Stage 7 - In Use
This project was brought to us by the client, who was in need of more room and a better configured layout due to a young, expanding family. Situated in Molescroft on the outskirts of Beverley, the rear of the house already had expansive views out towards the Yorkshire Wolds, but was in need of modernisation and more space. Already utilising three storeys, the client wished to remove the existing single storey, flat roof extensions at the rear of the property in order to create one large kitchen/living space, with unobstructed views to the garden and fields beyond.
Existing Rear Elevation

We achieved this by demolishing the existing flat roof garage and extensions, and extending off the side and rear of the existing house. This provided us with an integral garage at ground floor and a large contemporary rear extension and outdoor entertaining area.

Proposed Rear Elevation

At first floor it allowed us to expand the existing master bedroom to include a dressing area and ensuite. A further bedroom was extended above the garage to include further space and an ensuite bathroom. The rear extension runs along the entire width of the property and comprises of a contemporary design that includes a monopitched roof, expanses of glazing and roof lights, and a well-proportioned 'wooden box'.

The space created inside formed a new, vast living area where the family can enjoy cooking, eating, and lounging both indoors and outside, taking in the views to the end of the garden. The client requested that there be lots of light in the space, and this is achieved through the use of the monopitched roof that lets light penetrate deeper into the property, and the clever use of roof lights and strip glazing.

Existing Elevations - Front and Rear

Proposed Elevations - Front and Rear

Existing Plans

Proposed Plans

Existing Elevations - Sides

Propose Elevations - Sides

Existing Site Plan

Proposed Site Plan
The existing house was aesthetically dated, and the badly proportioned extensions meant that there was a waste of space. We tied in the new garage and two storey extension by using a similar material palette to unify the façades on the front of the property facing the road. The rear extension uses an aluminium clad monopitched roof that is repeated in the dormer window treatment at first floor. Complimenting this is a timber clad box that sits lower than the pitch of the roof to allow light to penetrate deeper into the space. This contemporary design is tied together, and to the existing property, by incorporating the materials used into the recladding of the rear of the existing property, and by using the existing ratios and proportions as a guideline for the design. The rear elevation uses long lengths of sliding glazed doors and roof lights to keep the elevation feeling as light weight as possible and allowing the social spaces to flow into the newly designed outdoor eating area and garden.