Graham Binnington Architects is an RIBA Chartered Practice, founded in 2009 and situated in the historic market town of Beverley in the East Riding of Yorkshire.
GBA creates bespoke buildings that respond attentively to context, the environment and the client brief. We feel our responsibility is to enhance the built environment whilst also fulfilling the clients' requirements and budget. This can only be achieved by collaborative work; both within the practice itself, and with the client and a wide range of external consultants. Our ongoing working relationships with the experts we choose to collaborate with, along with numerous repeat clients, bears testament to our success in maintaining this ethos. We pride ourselves on these working relationships and are able to draw together full design teams to deliver projects from inception to completion.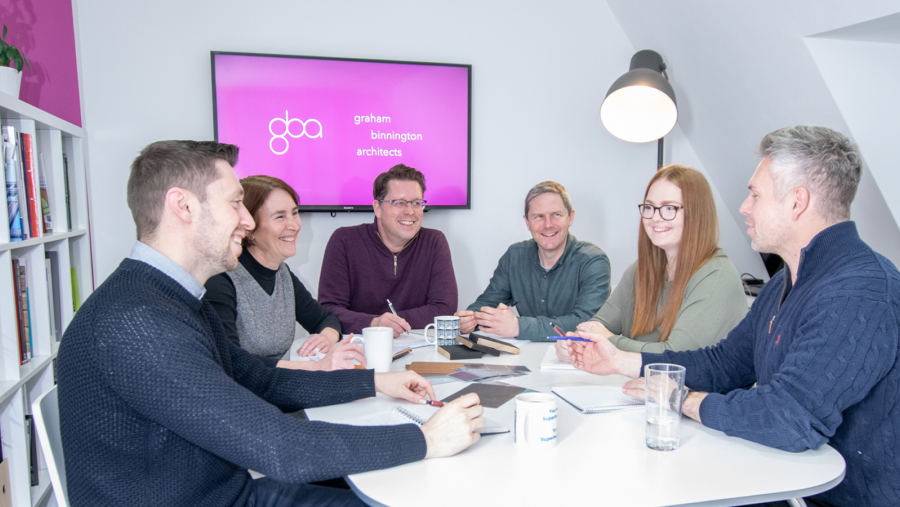 These principles are realised in numerous sectors. GBA has extensive experience in the domestic residential sector with work ranging from beautiful extensions and remodels; to bespoke houses and small housing developments. We have a passion for contemporary design and modern living; striving to conceive flexible spaces that will suit different lifestyles, and sustainable solutions that will perform excellently for years to come.
In addition to our expertise in the domestic sector we also provide services in the commercial sector, predominantly on office refurbishments; and the leisure and retail sectors, having completed café's, restaurants, apart-hotels and sporting facilities.
The Practice consists of...
Graham Binnington BA (Hons) B(Arch)

Director RIBA ARB

Graham Binnington is a Chartered Architect. He is registered with the Architects Registration Board (ARB) and is a member of the Royal Institute of British Architects (RIBA). He studied at Liverpool University and Hull School of Architecture, gaining his Degree in Architecture, with Honours, and his post graduate Bachelor of Architecture with Distinction. He completed the post graduate Diploma in Architectural Practice to qualify as an Architect in 1997.

Graham started his career working as an architectural technician and worked for a number of architectural practices in the Hull area. During this time, he gained an ONC and HNC in Building Studies.

In 2009 he set up Graham Binnington Architects Limited in Beverley following time working for a development company and in partnership. Graham has 30 years' experience in the architectural field, during which time he has worked on a broad range of projects, including residential, commercial, industrial, leisure and health care projects.

Outside of work Graham has a keen interest in music: listening and catching live bands as often as he can, including the yearly visit to the Deershed Music Festival with his family and friends. He appreciates real ale, which often goes hand in hand with music events. Graham also enjoys road cycling and mountain biking and is a member of Beverley 41 Club.

Joanne Binnington

Administration and Finance Director

In her role as Administration and Finance Director, Joanne Binnington contributes to the smooth running of the office. She is responsible for book-keeping, project time records, invoicing and day-to-day administration.

Joanne gained a BSc (Hons) in Psychology from Newcastle University in 1987, followed by a PGCE, and has previously worked as a Primary School Teacher and Event Manager. She enjoys gardening and ballet classes and is a proud member of the Beverley Community Choir.

Tom Lamping BA (Hons) M(Arch)

Architect ARB

Tom Lamping is a qualified Architect. He obtained his degree from the University of Lincoln in 2009 and joined GBA soon after, in January 2010. Tom spent over 2 years with the practice, gaining experience on a wide range of schemes in the residential and leisure sectors before going on to study for his M.Arch qualification at Leeds School of Architecture, graduating in 2014.

Tom returned to the practice for a second stint in the summer of 2014 and has further honed his conceptual and detailed design skills to play a major role in numerous projects at GBA. Tom completed his Part 3 qualification in 2018, again at Leeds.

Beyond the architectural profession Tom has a keen interest in sport of all kinds, interesting music and high-quality beer; and is even more interested if these are delivered as a package deal! He also tries his hand at illustration, graphic design and furniture design in his spare time.

Ross Harrison BA (Hons) M(Arch)

Architect RIBA ARB

Ross is a qualified Architect working on all work stages within the practice. He studied at both undergraduate and postgraduate degree level at Liverpool John Moores University, obtaining his M.Arch qualification in 2014, before achieving his Part 3 qualification in 2019.

After graduating, Ross spent 18 months working in a large, commercial practice where he was involved in the design of many multi-million-pound retail, industrial and office developments across the UK. Moving to GBA in 2016 allowed him to develop and hone his skills further, working with clients directly and being involved with projects from inception to completion.

Outside of the practice Ross is a keen golfer and rugby fan, but has an interest in most sports, leading to many morning conversations with Tom about the weekends sporting news. Co-Chair of the RIBA Humber Branch, he is involved in promoting the RIBA and built environment within the area. Also into music, he has an eclectic collection of vinyl records and attends gigs as often as he can. Ross' design influence stems from his interest in Scandinavian architecture, context, materiality and his love of the outdoors.

Becca Handley BA (Hons) International

Architectural Assistant (Part 1)

Becca is the newest addition to the team joining GBA in August 2019 after completing her BA (Hons) International degree in Architecture at The University of Huddersfield. Within her final year at the university Becca travelled to Vietnam for 3 weeks for her final project. After discovering the city of Ho Chi Minh she realised that there was a lack of acceptance and care for the disabled community. On the back of this Becca then designed a multi-sensory school based in District 4. She is looking forward to further developing her skills and knowledge at GBA during her Part 1 placement.

Outside of the office Becca has a keen interest in film, dance, top quality gins and baking. This sometimes leads to some nice treats being brought in on a monday morning. She also tries her hand at digital drawing and watercolour illustrations in her spare time.