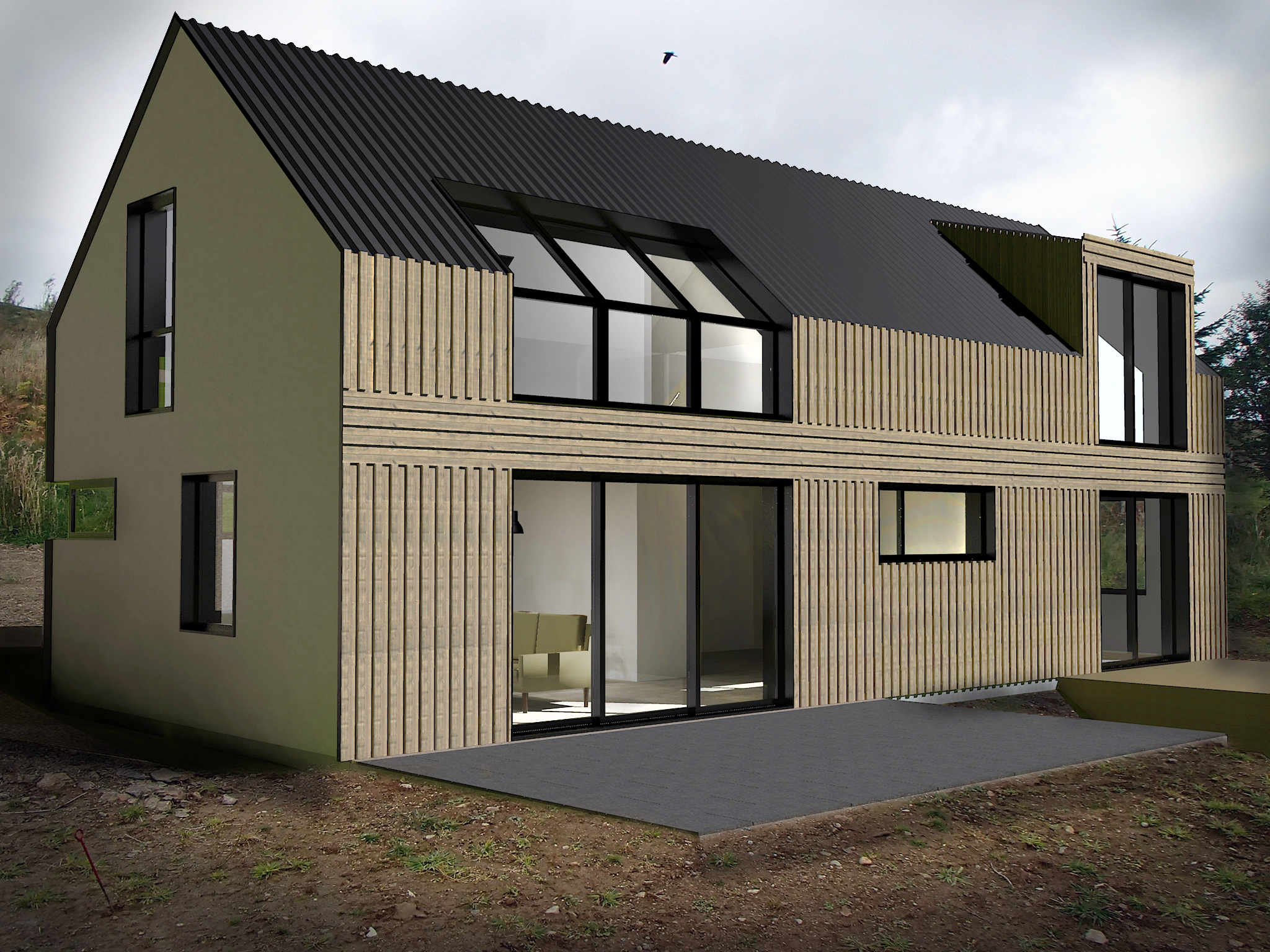 Vinahus
Residential
Ardvasar, Isle of Skye
Work Stage 5 - Construction
Working on an Architectural Consultant basis with the Client, we were asked to provide services for this New Build scheme on the Isle of Skye – a joint venture between a small group that wanted to build a dwelling that could work as a home for one client, a holiday home bolt hole for the others, and function as a holiday rental.
Site as Existing

The site looks back towards the mainland and over to Loch Nevis, Mallaig and Morar. Positioned at the top of a sloping site, the proposed dwelling would have unobstructed views across the water to the mountains beyond.

Proposed Site Plan

GBA worked on the project from an early stage, working with the Client on their initial designs, and offering expert advise where needed. Adapting the layout and elevations, providing 3D visual materials and working closely with the Client led to a design that made the most of the idyllic setting, as well as utilising the natural position on the hillside enabling the use of renewable energy systems. The south-facing roof is covered with photovoltaic cells to create electricity for the house, making it nearly entirely off-grid.

Proposed Ground Floor Plan

Proposed First Floor Plan

The entire superstructure of the dwelling is timber frame, partly constructed off-site and then transported to be assembled on-site. This should enable a faster build time, meaning that the interior is exposed to the elements for as little time as possible. Clad in timber and white render, the dwelling resembles the local vernacular of barn buildings and houses.

Front and Rear Elevations as Proposed

Side Elevations as Proposed

Interior Render
The ground floor offers large amounts of glazing to draw in the scenery, with an open plan kitchen/living area, bedroom and bathroom. The first floor features a galleried seating area, again making the most of the views, with a further bedroom and en-suite. Washing and cleaning facilities are provided within a side extension for the house, but also act as facilities for campers and guests to the house.