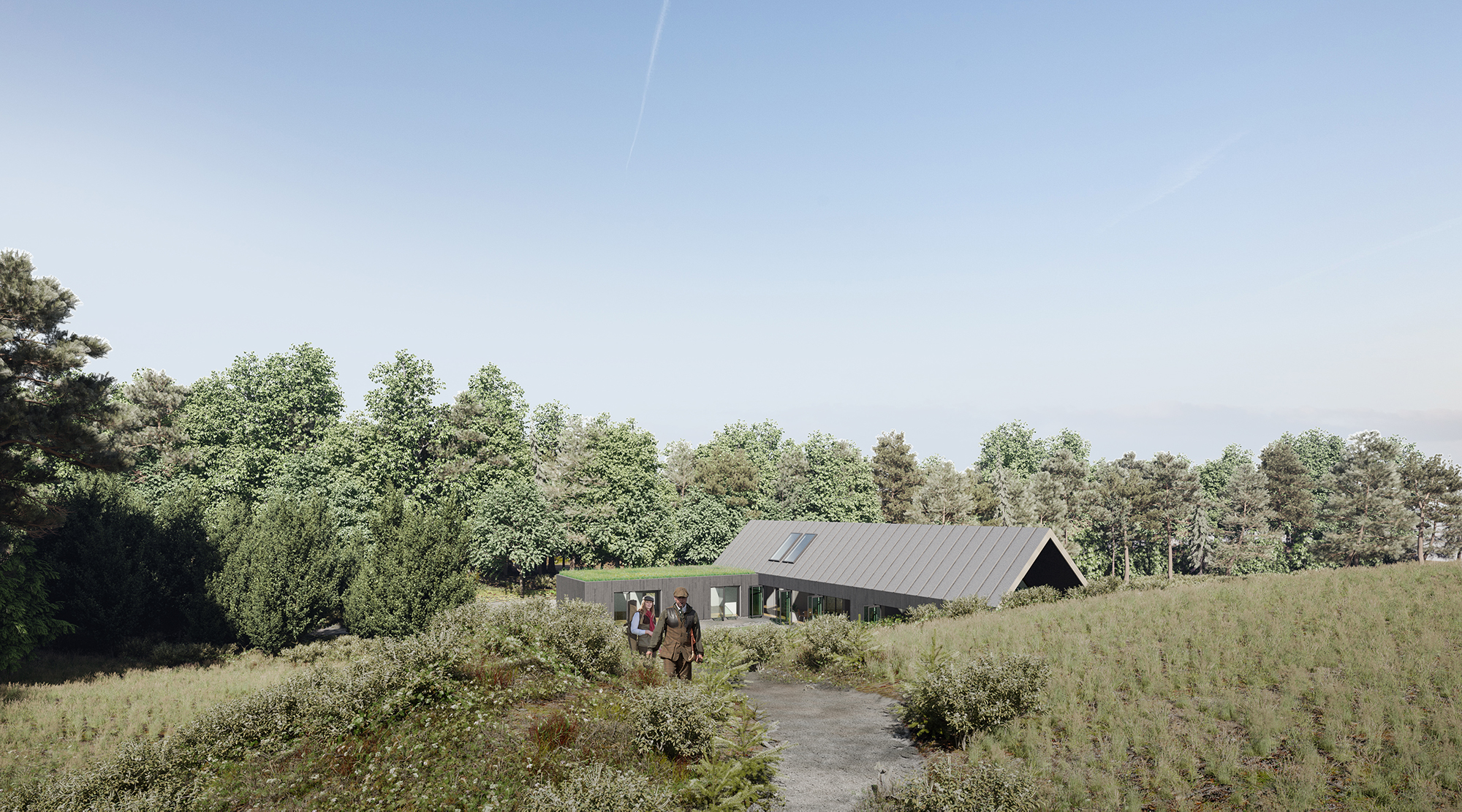 Thimbleby Shooting Ground
Leisure
Northallerton, North Yorkshire
Work Stage 4 - Technical Design
Thimbleby Shooting Ground (a clay target shooting business) came to GBA wanting a new shooting lodge. The Shooting Ground lies in an unspoiled idyllic rural setting on the edge of Thimbleby Estate in the North York Moors National Park and is accessed from the A19 via Thimbleby Road. The site has a very elongated shape running north to south along the low valley at the base of Thimbleby Bank plantation.
Existing Site

Surrounded by thousands of acres of heath and woodlands, the area around the shooting ground has been described as one of the most beautiful places in the North. The existing Shooting Lodge is made of timber construction and cladding, with profile metal roof. It has an external seating area and internally provides a kitchen, seating area and toilet.

Existing Site Plan

Proposed Site Plan

The new lodge is to be located on the existing hard standing site of the current lodge and storage containers. It is larger than the current lodge in order to accommodate the necessary facilities required by visitors, health and welfare, security and safeguarding. In addition, a training and education area is proposed which will enable all-weather instruction.

Existing Ground Floor Plan

Existing Roof Plan

Proposed Ground Floor Plan

The building is orientated east-west across the end of the car park in order to prevent public access to the Shooting Ground without first passing through the building for site safety whilst also offering maximum surveillance of both the car park and Shooting Ground.

Proposed Roof Plan

The designed appearance of the new lodge reflects the character of its woodland setting. Its strong roof pitch and low eaves, plus the use of strong gable features create the character of an agricultural barn or store. This is entirely in keeping with the wooded surroundings of the site.

Proposed Elevations

The building has a linear form with full glazed east gable and southern elevations. It is finished with areas of vertical and horizontal boarded timber cladding and sheet metal roof. Two flat roof side extensions feature green roofs to help reduce the massing and reduce the visual impact from afar. The new building will accommodate a reception, secure display/gun store, locker and changing area, toilets, kitchen, café area, training area, offices and staff facilities.

Proposed Section

The building has a simple functional appearance compatible with its use and surroundings, but also includes an element of design flair which serves to raise the design standard for functional buildings. The full gable to the east elevation offers views for inhabitants up the ridge to the tree line, without jeopardising the subtlety of the building. Flat roof elements to the north and south elevations feature natural green roofs in order to further reduce the appearance of the building from within and outside of the site. These green roofs will also help to increase the biodiversity within the site.