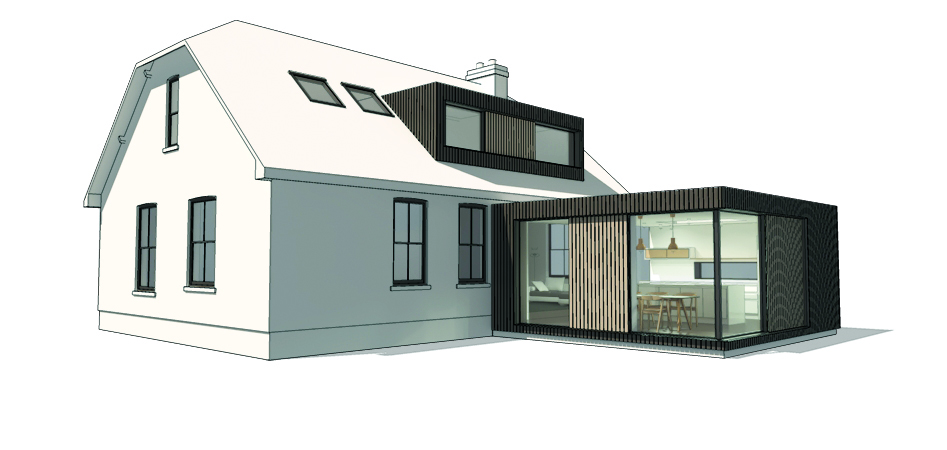 Limber Lodge
Residential
Cherry Burton, East Yorkshire
Work Stage 5 - Construction
This project was brought to us by a client who had recently inherited the property from a relative. Eager to restore the dwelling to some former glory and give a new family the opportunity to grow up in a home with so many memories, the client wished to fully renovate this Arts and Crafts style bungalow, respecting the era in which it was built while adding contemporary touches.
Existing Rear Elevation

Existing Front Elevation

Existing Side Elevation

Existing Site Plan

Proposed Site Plan

We achieved this by demolishing the existing lean-to extensions at the rear of the property, introducing a first floor with dormer window, and constructing a single storey extension to house a new kitchen/diner. Both the extension and dormer would be deliberately contemporary in styling, taking material cues from the site, including the charred black timber cladding that resembled the stained timber fascia's and garage.

Existing Floor Plans

Proposed Floor Plans

Fully renovating and modernising the property allowed for an updated palette of materials, including large areas of glazing to maximise the amount of natural light into the spaces. Sizeable sliding glass doors link the kitchen to the garden, and views of the sky can be seen through the expansive roof lights.

Existing Front and Rear Elevations

Proposed Front and Rear Elevations

While the rear extension adds a contemporary element to the dwelling, the rest of the property is restored in line with its original styling. High skirting boards and simple, clean cornicing are in keeping with the existing décor, with the addition of a new oak and steel staircase leading to the first floor. Originally built with an increased roof height, the first floor now has two further bedrooms, one with ensuite bathroom, and a further bathroom.

Existing Side Elevations

Proposed Side Elevations

At ground floor the existing two bedrooms are retained, along with the existing living room. With the addition of the new extension to the rear, the existing dining room can be opened out to create one large, split level space for living and dining. To add a distinct line between old and new, glazing between the extension and the existing house shows the connection and distinguishes between the two, and adds a unique design feature.